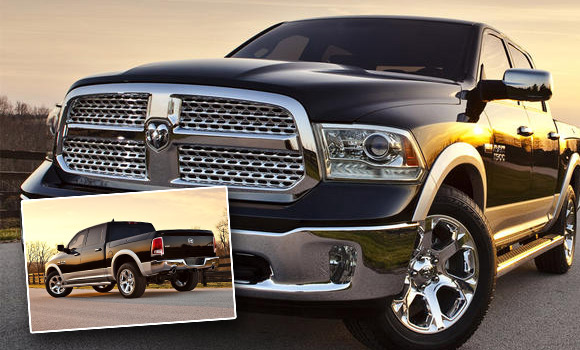 Chrysler truck engineers didn't just update the Ram 1500 pickup for the 2013 model year — they overhauled it from the bottom up with the goal of fixing the current Ram's biggest weaknesses: power and fuel efficiency.
When it goes on sale this fall, the Ram 1500 gets a new engine and transmission and the first Chrysler-produced vehicles to get stop-start technology in North America.
Combining those upgrades with other technology, the 2013 Ram is expected to be the most fuel-efficient pickup on the road when it is equipped with a 3.6-liter V6 Pentastar engine or 5.7-liter Hemi V8 engine, said Mike Cairns, Ram vehicle line executive. In 2011, Ram sales rose 22.6%, and its market share rebounded to 16.3% of large pickups — its highest mark since 2008. For the first two months of this year, Ram's market share has continued to climb, reaching 18.3% in February.
Ram has declined to disclose exactly what the new trucks' fuel-economy ratings will be until summer. Despite Ford's success with its 3.5-liter, turbocharged, direct-injected V6 EcoBoost engine, Chrysler believes customers still prefer V8 engines if the fuel efficiency can be improved.
"What we got back from customer surveys was, 'I don't want high-tech V6 in my pickup with turbo," Cairns said. "I want a highly fuel-efficient V8, so we believe that's what we are going to deliver."
Although Ram's overall design isn't changing much, the powertrain and technology upgrades, a redesigned grille and upgraded interior amount to more than a typical model-year update.
"It's more than just engine and transmission — we looked at the overall vehicle efficiency," Cairns said.
Ram said the 5.7-liter Hemi V8 will deliver 395 horsepower and 407 pound-feet of torque when mated to a new eight-speed transmission.
The new 3.6-liter Pentastar V6 engine generates 305 horsepower and 269 pound feet of torque, or 42% more horsepower, 13% more torque and than the V6 engine it replaces.
In addition, the 2013 Ram also will get active grille shutters, which automatically close the airflow when cooling is least needed and improve fuel efficiency.
While the grille shutters will improve fuel economy on the highway, the new stop-start system will improve fuel economy in city driving, Cairns said.
Ram's fuel economy will improve by 3.3% because of the introduction of stop-start technology, or an increase of about one mile per gallon in city driving.
Stop-start systems save fuel by turning an engine off when the vehicle is idling and quickly restarting it when the driver releases the brake or steps on the gas pedal.
In Europe, stop-start systems have become common on cars with manual transmissions. In North America, the technology is common on gasoline-electric hybrids, including the Ford Fusion Hybrid.
Until now, Chrysler has offered stop-start technology only on its 2.8-liter Jeep Wrangler in Europe.
Cairns said Chrysler worked with Fiat engineers to update the technology for use on the Ram. In its annual report last month, Chrysler said it plans to deploy start-stop technology across 90% of its fleet by 2017.